RHRC investigators Andrilla, Evans, and Patterson published multiple articles in a special issue of the Journal of Health for the Poor and Underserved. These studies were conducted through Rural PREP, our HRSA-funded collaborative that conducts research on education and training for rural primary care health professionals.
These five articles report on Rural PREP research findings and initiatives to strengthen pathways for recruitment, retention, and education of rural primary care health professionals.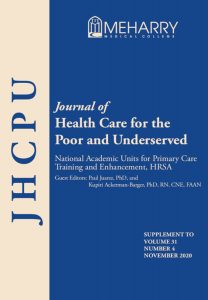 Davis Patterson also contributed to these articles, which address initiatives to advance health equity in health professions education and training more broadly.
Leveraging Collective Impact to Promote Health Equity (Ackerman-Barger K, Sandvold I, Patterson DG, Brown KY, Douglas-Kersellius NV)
This paper describes how the HRSA-funded AU-PCTE used the Collective Impact Model to promote health equity.
Who, What, and Where: Transforming Primary Care Education to Advance Health Equity (Ravenna PA, Bream KDW, Fancher T, Juarez P, Klusaritz HA, Matthews-Juarez P, Persell SD, Phillips RS, Riedy C, Patterson DG)
This article provides recommendations from the Academic Unit grantees on ways primary care health professions education can be transformed to advance health equity.
We hope you'll find this issue compelling. Your feedback is welcome!